Consultancy
Via technical and strategical consultancy DataScenarios can help your company in designing, implementing and solving your data scenarios and is active in the following areas:
Power BI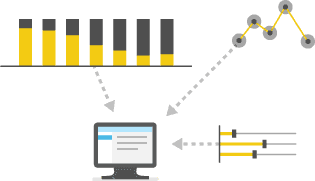 Microsoft Power BI  is a powerful and versatile reporting and analytical application which can be used as a 'stand-alone' application or via Power BI Embedded within an total (software) solution. DataScenarios uses both methods to gain more insights via reports and dashboards.
Also DataScenarios is specialized in the development and support of Power BI Custom Visuals.
In line with the Power BI consultancy, DataScenarios also capable to provide Microsoft licenses to product subscription, like Power BI Pro and Power Embedded/Premium. These licenses can optional include support and full management of your Power BI tenant including Power BI users.
Microsoft Azure Data Platform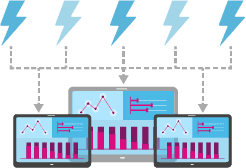 A good start of a valuable solution is to gather, store and transform the required source data. To achieve this start DataScenarios uses different components of the Microsoft Azure Data Platform . With the right combination of Azure services, a suitable solution can be found for each scenario.
Microsoft Azure AI
As a specific framework within the Azure data Platform, Azure AI is specifically intended to translate (Big) Data into valuable actions using Advanced Analytics, but it can also be used in less complex scenarios. DataScenarios can help in implementing this framework and in combination with other components of the Azure Data Platform it is possible to achieve insights of your company processes.
Data Science
Complete and accurate data is essential to make a data Science process successful. DataScenarios operates in the area between data and (data) science and helps to achieving a complete, stable and therefor accurate flow of data that increases a successful outcome of the different Data Science projects and algorithms. DataScenarios can also help in embedding Data Science projects within the main processes.
Questions
If you are interested or want to know what the different support options are, feel free to contact  us.